Alpha Slow Juicers
HZ Slow Juicer
Hurom
Our top-of-the-line HZ slow juicer is powered by our newest technology and is cased in stainless steel. The HZ's Alpha technology features optimized juicing, easier cleaning and the ability to make ice cream. Its patented Slow Squeeze Technology ensures your juice stays fresh. Order yours now.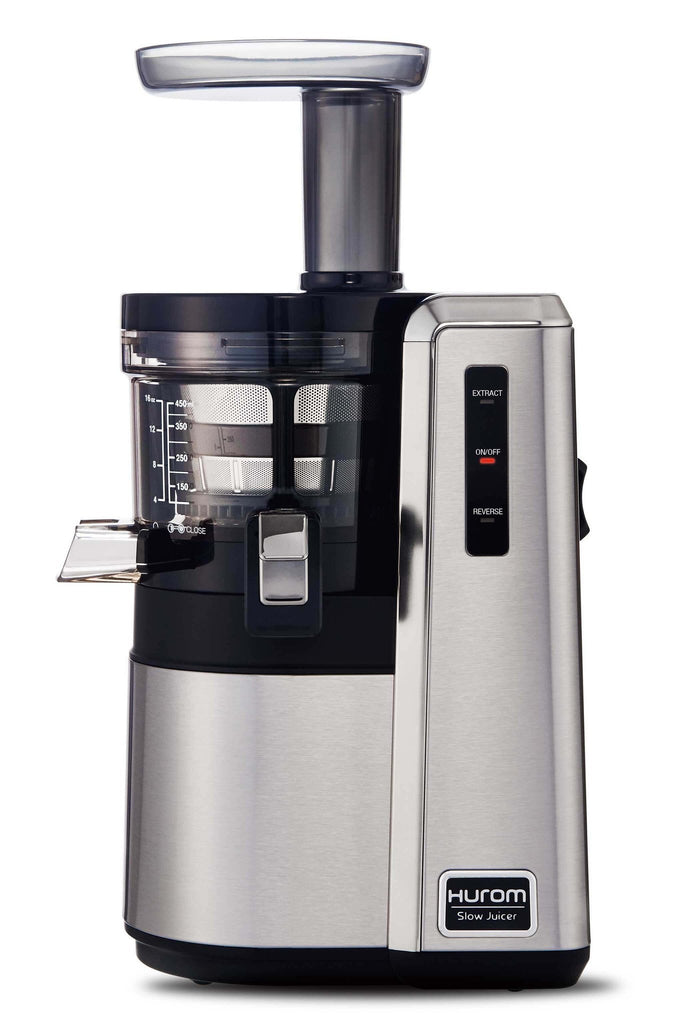 Our motor is covered by a 10 year warranty. The remaining parts are covered by a 2 year warranty.

Free shipping on purchases over $50.
Product Details
Juicer Body

Drying Rack

Tofu Press

Ice Cream Strainer

Manual & Recipe Book

Fine Strainer

Single-Leaf Auger

Coarse Strainer

Hopper & Lid

Chamber

Juice Container

Pulp Container

Large Cleaning Brush

Spinning Brush

Pusher

Squeezer
Encased in sleek looking and durable stainless steel, our top-of-the-range HZ Slow Juicer is powered by Hurom's latest technology. In addition to optimized juice making and much easier cleaning, The HZ also has the ability to make silky smooth homemade ice creams.
The HZ model also comes with a long list of additional features which include:
Stainless Steel: The HZ Slow Juicer comes complete with a stainless steel finish and LED indicators. Renowned for its durability and antibacterial benefits, the stainless steel finish gives the stylish HZ a sleek industrial edge. The LED indicators are used to indicate settings, such as when the machine is in extract mode or reverse mode.
Slow Squeeze Technology: Emulating the actual hand-held squeezing process, the HZ Slow Juicer rotates at a speed of only 43 revolutions per minute. Hurom's unique and patented Slow Squeeze Technology keeps your juice in its most natural state while staying fresher for longer.

Taste & Pulp Control: The HZ Slow Juicer also comes with a fine and coarse strainer that allows you to increase and decrease the amount of pulp you prefer in your juices. 
Yield: Our unique low-speed auger extracts every last drop of juice possible from both fruits and veggies, leaving behind a bone-dry pulp and all the goodness in your glass.
Taste & Flavor: For over ten years we have mastered the art of juice making. The state-of-the-art HZ Slow Juicer, lets you create fresh, unprocessed juice like no other, just the way nature intended. 
Easy to Clean: During juicing, the machine's inner spinning brush rotates to clean the chamber and strainer simultaneously, which drastically reduces clogging. The HZ Slow Juicer can also be easily dismantled and assembled, making cleaning quick and simple.
Quality & Durability: Made from a BPA-free and impact-resistant ABS plastic body, our Slow Juicers are designed for daily use and are extremely durable. Plus, the HZ's heavy-duty Ultem strainer and auger are 8 times stronger than traditional plastics.
Versatility: The HZ Slow Juicer works on a variety of fruits, vegetables, leafy greens, and nuts to create delicious juices, smoothies, and nut milks. The cherry on top? The HZ Slow Juicer also has the added feature to make delicious ice cream straight from the machine's chamber.
Works Quietly: Unlike traditional juicers, our Slow Juicer's AC motor is practically silent, using just 150 watts of power. 
Safety: With safety always being a priority, our juicers only operate if the chamber is precisely assembled on the base. Most importantly, no blades are used in the design of our products. Worried about overheating? Each juicer comes equipped with a built-in cooling system with integrated heat vents to prevent overheating.
 Chamber Type
Alpha Chamber
Chamber Capacity
500 ml (16.9 oz)
Auger Speed
43 RPM
Spinning Brush
17 RPM
Materials

- Body: Stainless Steel & ABS
- Chamber: Tritan
- Squeezing Screw: Ultem
- Fine Strainer: Stainless Steel & Ultem
- Ice Cream Strainer: BISEN
- Hopper: ABS

Product Dimensions
205 x 236 x 407 mm (8.1 x 9.3 x 16.0 in)
Shipping Dimensions
450 x 290 x 375 mm (17.7 x 11.4 x 14.8 in)
Hopper Chute Opening
50 mm (2 in)
Product Weight
9.55 kg (21 lb)
Shipping Weight
10.45 kg (23 lb)
Motor
A/C
Voltage
120 V, 60 Hz, 150 W
Cord Length
1.4 m (4.6 ft)
Standard Usage
Up to 30 minutes continuously
Inside the Box
Juicer Body

Drying Rack

Tofu Press

Ice Cream Strainer

Manual & Recipe Book

Fine Strainer

Single-Leaf Auger

Coarse Strainer

Hopper & Lid

Chamber

Juice Container

Pulp Container

Large Cleaning Brush

Spinning Brush

Pusher

Squeezer
Hurom juicers are designed to minimize the breakdown and oxidation of fruits and vegetables. This means your juice will contain more nutrients and a fresh, natural taste.
All of our Slow Juicers can make juice, smoothies, nut milks, and sorbets. Work with a wide variety of ingredients like fruits, leafy greens, nuts, and vegetables. Anything that is normally chewable with teeth, our juicer can press juice from!
Equipped with an inner spinning brush, our Slow Juicers are designed to reduce clogging and increase juice yield. Every juicer is easy to assemble and disassemble, making cleaning a breeze.
Designed for You
Quiet & Easy to Clean
Our quiet motor lets you start off the morning without causing a stir and cleaning up takes just a couple minutes.
Juice Safely
Hurom juicers are 100% BPA free and come without any blades or sharp parts, making it safe for your entire family.
Deliciously Unprocessed
Juicing yields more juice from the ingredients for great tasting juice that lasts up to 72 hours.
More Nutrients, Minimal Oxidation
The juicing cone's natural motion minimizes damage to ingredients, keeping natural taste and nutrition intact.