Refurbished H-AE Slow Juicer
Hurom
Our limited-edition H-AE slow juicer combines ultimate design with slow juicing and squeezing innovation for better taste. You asked, we listened. User feedback drives our product design. Enjoy optimized juicing and easy cleaning. Shop now!
This item is not eligible for the free 3-day shipping offer. Please expect delivery between 3 to 8 business days when purchased with free ground shipping.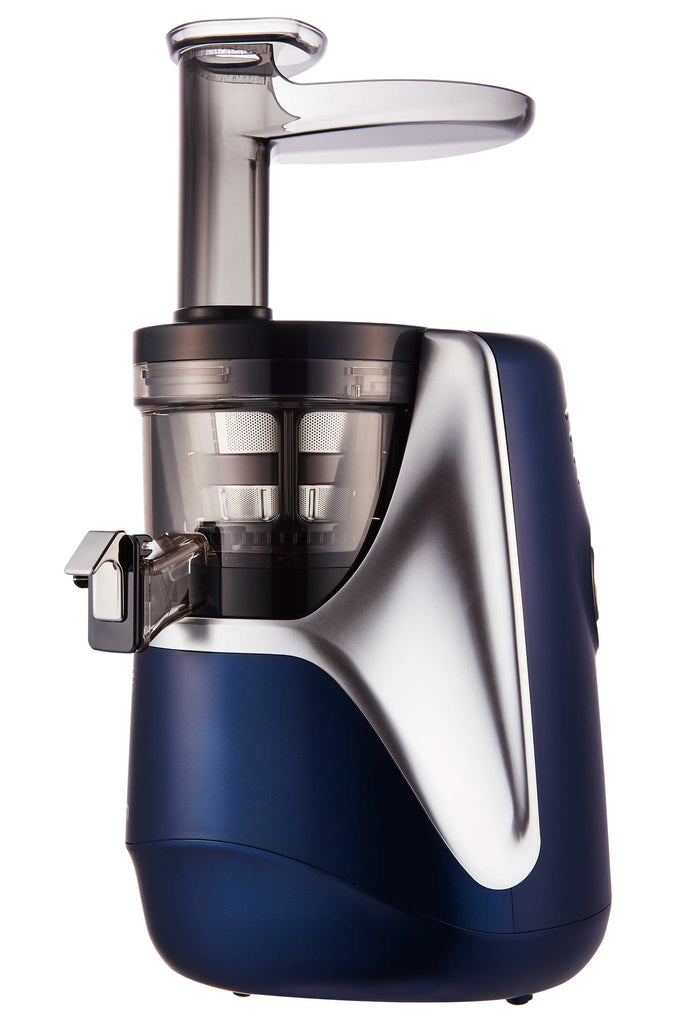 Refurbished H-AE
Slow Juicer
479.95
In Stock
This item is not eligible for the free 3-day shipping offer. Please expect delivery between 3 to 8 business days when purchased with free ground shipping.
Quality
All Certified Refurbished machines have been built and refurbished by hand.
Money Back
15-Day Money Back Guarantee with pre-paid return labels.
Free Shipping
Free shipping is available for every Certified Refurbished purchase.
Warranty
5-year warranty on motors and 1-year warranty on parts for every Refurbished H-AE Slow Juicer.
Product Details
Juicer Body

Drying Rack

Tofu Press

Ice Cream Strainer

Manual & Recipe Book

Fine Strainer

Single-Leaf Auger

Coarse Strainer

Hopper & Lid

Chamber

Juice Container

Pulp Container

Large Cleaning Brush

Spinning Brush

Pusher

Squeezer
Our limited-edition H-AE slow juicer combines ultimate machinery design with slow juicing innovation. H-AE's outer case was designed by Giugiaro Design, the business unit of world-class automotive design firm Italdesign, maker of production and concept cars for Ferrari, Maserati, Lamborghini, and more. Engineered to merge the concepts of superior design and nutritional capability, H-AE's dynamic design raises the bar on user-friendly ergonomics.
Refurbished

: Refurbished juicers are

 pre-owned juicers that were remanufactured at our top-notch facility. To ensure the best quality and customer experience, we uphold the industry's highest testing standards. Refurbished juicers come with all the same in-the-box parts and accessories.

Supercar-Inspired Design: H-AE features a prominent and intuitive power button for simplified ease of use that recalls an automotive experience, while the contrasting diagonal color scheme visually divides the control area from the section of the machine that extracts nutrient-dense juice. Taking inspiration from luxury vehicles, the visually bold yet streamlined design of the models reinforce the juicer's durability, while the concave design on the side conveys the fullness of juice's natural nutrients.
Slow Squeeze Technology: The H-AE slow juicer rotates at a speed of just 43 revolutions per minute to mimic the motion of a hand squeezing juice. This patented Slow Squeeze Technology ensures your juice stays fresh and in its most natural state.
Taste & Pulp Control: We've spent decades perfecting our juicers for taste. Juice created with a Hurom slow juicer is fresh, unprocessed and pure. The H-AE slow juicer also comes with a control lever and a fine and coarse strainer that allow you to control the amount of pulp to suit your taste.
Yield: Our unique low-speed auger squeezes every drop of juice, resulting in bone-dry pulp.
Easy to Clean: During juicing, the inner spinning brush rotates to clean the chamber and strainer simultaneously, reducing clogging and increasing juicing efficiency. The H-AE slow juicer can also be quickly disassembled and assembled, making cleaning a breeze.
Quality: Made with an impact resistant ABS plastic body, our slow juicers are extremely durable. The heavy-duty Ultem strainer and auger are 8x stronger than traditional plastics allowing our slow juicers to handle years of daily use.
Versatility: Works wonderfully on fruits, cruciferous vegetables, leafy greens, nuts and soybeans to create nutritious cold-pressed juices, milk, tofu, and more. The H-AE slow juicer also has the ability to create healthy ice cream straight from the chamber.
Works Quietly: A near-silent AC motor works efficiently using just 150 watts of power which means you can enjoy cold-pressed juice at home without the noise caused by traditional juicers and blenders.
Safety: Duplicate safety sensors allow the unit to operate only if the chamber is completely and accurately assembled on the base. A built-in cooling system with integrated heat vents prevents overheating. The chute is sized to keep even small fingers out. Most importantly, no blades are used in our products.
 Chamber Type
Alpha Chamber
Chamber Capacity
500 ml (16.9 oz)
Auger Speed
43 RPM
Spinning Brush
17 RPM
Materials

- Body: Stainless Steel & ABS
- Chamber: Tritan
- Squeezing Screw: Ultem
- Fine Strainer: Stainless Steel & Ultem
- Ice Cream Strainer: BISEN
- Hopper: ABS

 

Warning: This product contains chemicals including Di-Phthalate, which is known to the State of California to cause cancer and/or reproductive harm. For more information go to www.P65Warnings.ca.gov

Product Dimensions
270 x 180 x 430 mm (10.6 x 7.1 x 16.9 in)
Shipping Dimensions
410 x 310 x 385 mm (16.1 x 12.2 x 15.2 in)
Hopper Chute Opening
50 mm (2 in)
Product Weight
6.5 kg (14.3 lb)
Shipping Weight
10.0 kg (22.0 lb)
Motor
A/C
Voltage
120 V, 60 Hz, 150 W
Cord Length
1.4 m (4.6 ft)
Standard Usage
Up to 30 minutes continuously
Inside the Box
Juicer Body

Drying Rack

Tofu Press

Ice Cream Strainer

Manual & Recipe Book

Fine Strainer

Single-Leaf Auger

Coarse Strainer

Hopper & Lid

Chamber

Juice Container

Pulp Container

Large Cleaning Brush

Spinning Brush

Pusher

Squeezer